---
Flu shots offered across the area
Flu shots are free of charge for Saskatchewan residents at flu clinics and at pharmacies
October 28, 2020, 7:57 pm
Victor van der Merwe Local Journalism Initiative Reporter
---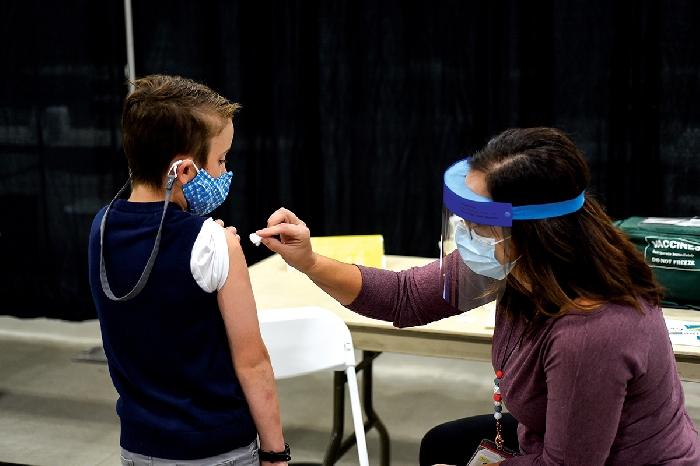 The Saskatchewan Health Authority (SHA) has begun their flu shot clinics.

Representative from both the Saskatchewan Ministry of Health and SHA are driving home the importance of people getting the flu shot this year.

"Getting a flu shot provides double protection—for yourself and also for those close to you. It is a vaccine that is freely available, proven to be safe, and is particularly important this year during flu season as part of our ongoing efforts to mitigate the additional challenges to our provincial health care system from COVID-19. We encourage everyone to do their part to help keep Saskatchewan's communities as healthy as possible," said Dr. Saqib Shahab Saskatchewan's Chief Medical Health Officer.

The goal is to minimize influenza outbreaks in the midst of the global COVID-19 pandemic.
"It is truly going to be a campaign like no other due to the COVID-19 pandemic. This year it is more important than ever for all of us, especially people at high-risk of influenza complications such as pregnant women, young children, elderly people, those with underlying health conditions, or people who are immune-compromised, to get the flu shot," said Dr. Tania Diener, Medical Health Officer in Regina.

The goal is to make sure that the province provides a vaccine for everyone as soon as possible to help curb the possibility of a "twindemic."

"We actually see influenza immunization as part of our COVID-19 strategy. For influenza, we are very fortunate, we have a vaccine that can protect us, unlike COVID-19 where we don't have a vaccine yet. By increasing our influenza immunization coverage, we can actually protect our population and thereby avoid what we call a 'twindemic' where people have influenza and COVID-19 at the same time. Also we can keep our health care resources available should we see a surge in COVID-19 cases. So, I would therefore really encourage everyone to get the vaccine against influenza," said Diener.

Dr. Kevin Wasko, Physician Executive with SHA added to Diener's remarks by driving home the point about how getting the flu shot will not only help those who are most at risk, but also the system at large.

"Our system depends on it. We are worried about the 'twindemic' where we have a surge of COVID-19 cases and influenza outbreaks as well. We can prevent the influenza side of it and we should. That is why it is important to get immunized. By approaching this with an all hands on deck mentality where every healthcare encounter can be seen as an oportunity to immunize for influenza, we can trial a new way of doing things so that when the COVID-19 vaccine becomes available, we can have a widespread response across the system and that we had a test drive of sorts with the influenza vaccination. We will make the influenza vaccine available in more locations like our acute care centres, in our emergency departments and family physician clinics as well as our traditional immunization clinics. So, there are multiple ways for people to get immunized this year," said Wasko.

Along with all the public health locations where people can get their flu shots, Saskatchewan residents can also go to pharmacies to get immunized.

Where to go and who to call depends on where you live. There is up-to-date information online at 4flu.ca, but here is a list of flu shot clinics and pharmacies in the following areas.


Moosomin
Moosomin Convention Center at 113 Wright Road will have a flu shot clinics on November 2 from 9 am. to 4 pmCall 306-434-7085 to make an appointment.
Walk-in clinics will be held at the same location 9 am to 6 pm November 10, 9 am to 4 pm November 16, 10 am to 6 pm November 18 and 10 am to 6 pm November 25.

Moosomin Pharmasave at 630 Main St. is taking appointments by phone at 306-435-3345 or online at pharmasave.com/moosomin/flu-shot-appointments/

Rx. Drug Mart on 608 Birtle St. will take appointments by phone. 306-435-3253.


Esterhazy
From October 26 until December 17 there will be flu shot clinics held at the Esterhazy Public Health building at 216 Ancona Street from 12 noon to 4 pm October 30, November 5, November 12, November 19, November 26, December 3, December 10 and December 17.
Residents of Esterhazy should call 1-866-343-1460 for specific dates and to book an appointment.
On November 2 and 21 between 9 a.m. and 7 p.m. there will be walk-in clinics at the S.N. Boreen Community Center on 800 Fourth Avenue in Esterhazy.
Residents can also call and book an appointment at one of the following pharmacies in Esterhazy.

Erin's I.D.A. Pharmacy (306-745-2525) at 422 Main St.

Sapara's Drug Mart (306-745-6662) at 434 Main St.

Pharmasave (306-745-2022) at 414 Main St.

All three pharmacies also allow for walk-ins during business hours.


Kipling
On October 26 and on November 6 the Kipling Public Health Office at 200 Fourth Street will have a flu shot clinic by appointment only. To make an appointment call: 306-736-2522.
On October 29, there will be a walk-in clinic at the Kipling rec center located at 301 Sixth Avenue between the hours of 2 p.m. and 7 p.m.

There are also flu shots available at Balfour Drugs on 528 Main St. Call 306-736-2242 for an appointment, but walk-ins are also welcome.

The Pharmasave at 506 Main St. also offers flu shots by walk-ins. No appointment necessary.


Maryfield
On November 4 there will be a flu shot clinic at the Maryfield Health Center located at 233 Main Street. To make an appointment call: 306-646-2133.


Redvers
The Redvers Curling Rink at 21 Methuen Street will play host to a walk-in flu shot clinic on November 3, from 1 p.m. to 7 p.m. Seniors will be given priority from 1:00 p.m. to 3:00 p.m.

Redvers Pharmasave at 24 Broadway St. are taking walk-ins too, but people can call 306-452-3313 to book an appointment.


Rocanville
The Rocanville Senior's Club on 219 Ellice St. will be taking appointments for flu shots on October 29. Call 306-434-9945 to secure a spot on these days or residents can go on November 4 and 26 between the hours of 10 a.m. and 4 p.m. when the same location will have a walk-in clinic.

Over at the Rocanville Super Thrifty Pharmacy located at 110 Ellice Street, Traci Burke is encouraging residents to book one appointment for their entire family if they come to the pharmacy for a flu shot.
"We are trying to keep families safe by having them come in together. We are not having a lot of people in the store at the same time," said Burke. Call 306-645-2633 to book an appointment.


Whitewood
Whitewood residents can call 306-735-7225 to make an appointment for flu shot on October 30 at the Harmony Club at 806 Green St.
There will be a walk-in clinic on November 3 and 24 at the same location between the hours of 10 a.m. and 5 p.m.
The Pharmasave located at 701 Lalonde St. will be taking appointments for October 28 and 29.
Tweet