---
Generals claim first-ever RMFL championship
November 17, 2022, 10:50 am
Kara Kinna
---

There was jubilation on the Generals Battlefield on Saturday, November 5 when the Moosomin Generals claimed their first ever Rural Manitoba Football League championship over the Interlake Thunder with a score of 16-12. The Generals took the championship after trailing until the final quarter of the game before making a touchdown that put them ahead.

Fans, parents, and Generals alumni in the stands rushed down onto the field at the end of the game to celebrate along with the Generals and their coaches.

It's a championship that has been a long time coming for the Generals, who have been to the finals twice before, only to be defeated.

Many of the players who helped claim the championship on November 5 were kids who came up through Little Generals program, starting with the Generals in the early days of the program.

It was a sweet moment for people like general manager Jason Schenn, who helped get the Generals program started.

"It's huge for the program, it's huge for the kids," says Schenn. "When everything was finally done, even our alumni players that were in the stands stormed the field. It meant a lot for them too, because there were a lot of teams that were decent and never made it to the finish line.



"I think it was something that everyone was able to share—the coaches, players, alumni players, parents, and fans. You look at this particular group of players we have, a lot of them have been around for six, seven, eight years with the program, starting out as Little Generals. This is really our first group of Little Generals that have gone through the whole program and are starting to graduate.
"They have been around for a long time. You get to know these kids and they become family to you. So to see them be able to have those smiles—it's huge.
"Seeing the alumni players hopping around the field like they won too—well they have—they were part of the foundation that built this program."


Schenn says when the season started, no one on the team, including the coaches, realized this would be a championship team. But the way the team worked together and got along ended up being this particular team's strength.
"It seemed like everyone just got along. It was a good group, there were no divisions within the group—you know sometimes you have those little separations between people, or personalities that make the group dynamic a little more complex," he says. "But this group here, they seemed to go with the flow and get along really well. It didn't matter who you hung around with outside the game, once you were there, you were playing ball with the rest of the group and you were there competing with your teammates. Everyone just came together as a group.
"I think that makes a difference between a good team and a championship team. They had a common goal, they all put in the work. If they could be there, they committed to being there."
Evan Coleman is one of the Grade 12 players on the team who started with the Generals when he was in eighth grade.
"Growing up, from when I was on the Junior roster there, they always told us that if any group was going to win a championship, it was going to be us, my age group here," he says. "And they've been telling us that for years and years. And I think when the season started, we really tried to gel as a team and focused a lot more on team building and team activities to try to build that chemistry and build that confidence to know the guys working beside us are working just as hard as we are to get it all done.
"We expected a tough battle. For the top half of the playoffs, which included us, Stonewall, Dauphin and Swan River, we were the only team out of the four that had never won a championship before, so we kind of had that burden on our back that every other team here had won before or had won multiple years in a row. They know what it takes to get there and get it done. So we came in knowing we have the best record in the league but all these teams have been able to prove in the playoffs before that they have what it takes, and at that point we had not shown that we had what it takes.
"We knew that we were going to have to fight for every inch on the field and it was going to be the toughest two games that most of us were ever going to play, just because we know the intensity that these teams brought in the regular season. It was great intensity but everyone steps it up in the playoffs. So we had no idea how hard they were going to be because everyone brings new things to the playoffs just to try to get that win."
He says winning the championship was a shock.
"It took a really long time for it to set in. It was a shock where we couldn't believe we'd done this, we'd been dreaming of this for so many years, and they kept telling us that if we really, really tried we could do this. For me personally, I think it really didn't set in for a while. I was still in shock and couldn't believe what we were able to accomplish.
"It's fantastic. It's such an honor to win that, especially with the guys that we played with in the season all year. The Grade 12s especially, I've been playing with these guys for years and years, the majority of them. We have to hang up the cleats, we're done with the program, but being able to leave on top always means a little bit more than just losing and being done."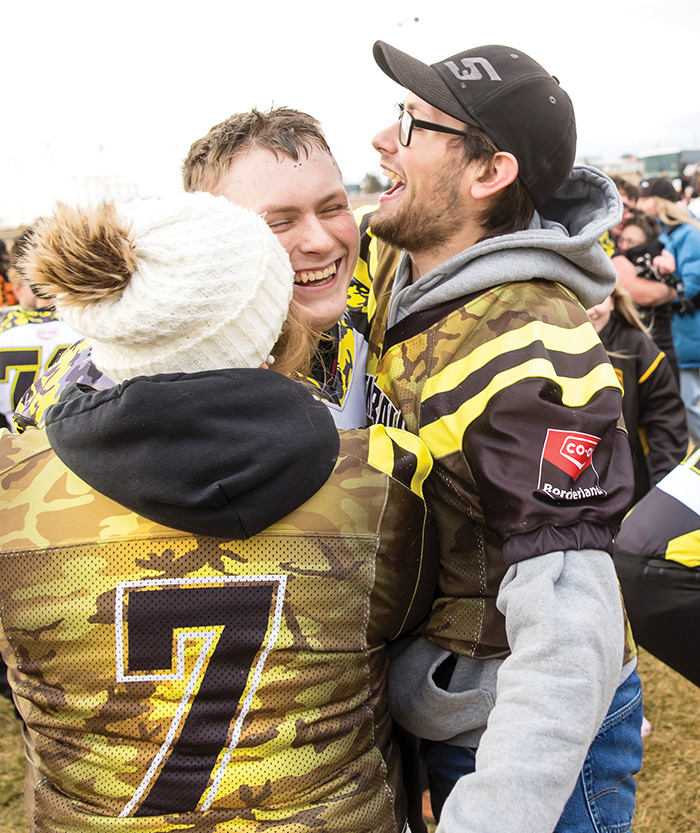 Ryder Miller, another Grade 12 player who has been with the Generals since he was a child, also says it was hard to believe when they finally claimed the championship.
"It was surreal, it was great," he says. "It was our first championship as a club, but it was also kind of sad because for a lot of us it was our last game.
"It really didn't hit until a little bit after the championship when the team was sitting there and we were like 'holy heck we actually won!'
"It's special just because I've been there since I was around nine years old, so getting to watch all of those guys get to go to the championship and lose or not have the best seasons, it was special to finally be the first team to win.
"I don't think any of us thought we were going to be a championship team this year. We gelled well together at the start of the year. We played our first game together and won and thought let's keep doing this and kept training harder and harder and just kept winning and kept gelling together as a group, and next thing you know we were in the championship game.
"We were such a close knit group. We all knew each other from pretty young, we all played together and had chemistry with each other from before, so when we were playing it made it a lot easier."
Tweet